epic.HUB - Keeping it Social
Published 07/06/2016 21:00 by gitsie
Use the epic.HUB at epic24 and know what's coming next!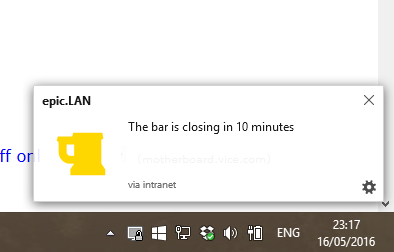 Here at epic.LAN, we're always trying to find new ways to let you know what's happening at the events. There's the timetable, the intranet site, and the big screen. But it's not always easy to leave it open, and you might miss things that you're interested in - like a big game, or something fun in the gallery.
From the epic intranet you can open the HUB and leave it running in the background. It'll tell you about big games, tournament matches, important announcements, or even new Tweets about the event. Very fancy!
Playing a game? Not a problem, it'll make a noise to tell you something new has been posted. You also get desktop notifications like Skype or Steam, so even if the window is buried underneath other things, you still see what's happening.
It's completely configurable, you can opt-out of any of the categories, turn off sounds or even turn off the notification popups altogether. It ties in completely with your epic.LAN event account. If you're taking part in one of our tournaments, it'll tell you when your match is due to start, with a link to go straight to the match details. It'll even tell you the server you're meant to be playing on!
It also works well with the event timetable. If you see something on the timetable, either the official epic.LAN timetable, or the community one (that you can also add things to!), then you can set a reminder and it'll tell you 10 minutes before. Never miss a big-game or werewolves ever again!