epic.People - "Social Gaming at it's best"
Published 23/05/2016 21:17 by gitsie
Whether you attend epic.LANs for the social or competitive side, you will have definitely come across our Event team before. You won't always see what they do; a fair bit of it goes on behind the scenes, but they pretty much make the social timetable at every event. Led by Mark "MRated" Illingworth, the Event team is the undisputed Mum of the epic.LAN family; they look after you guys, they organise fun things to keep you occupied, they tidy up after you, and they always go to bed super late and wake up too-damn early.
I grabbed a chance to chat with Ben 'Beej' Hurford (aka Princess Beej) about his role and what it's really like to staff an epic.LAN. Beej has been Event team lead since epic.FOURTEEN, but his history with epic.LAN goes back to epic.EIGHT when he started staffing as part of the much-missed epic.Radio team. He started staffing as Event team from epic.TEN, and has staffed every event since.
Princess Beej, epic.SEVENTEEN in February was your 10th epic.LAN as staff, what is it that keeps you coming back to staff event after event?
The banter, the team and the attendees. It's a great community to be a part of, there's no outsiders. My first ever epic.LAN I was 16 years old, I turned up at the train station and called someone at the event to ask for a lift to the venue. Little did I know, Elsie (LAN Dad) was already there and waiting for me! I've made so many friends through being part of the epic.LAN community, and that's what keeps me coming back.
Your role has actually changed since you first started staffing; you began working with epic.Radio, then moved on to Event Team. What is it about Event team that you enjoy the most?
I would say it's the team itself. We have always had a really good, strong team with a nice mix of personalities. I think the move to KCC (Kettering Conference Centre) has made the team stronger, because we have the Gallery as a central, social 'hub' to utilise, which has only improved the social side of epic.LAN. As a team, it's always nice to get the positive feedback we get from attendees after an event, and the diversity we have on Event team means that we can step things up to create a really good social timetable time and time again. We really want to make sure we give everyone who attends epic.LAN a great weekend, and social gaming at it's best.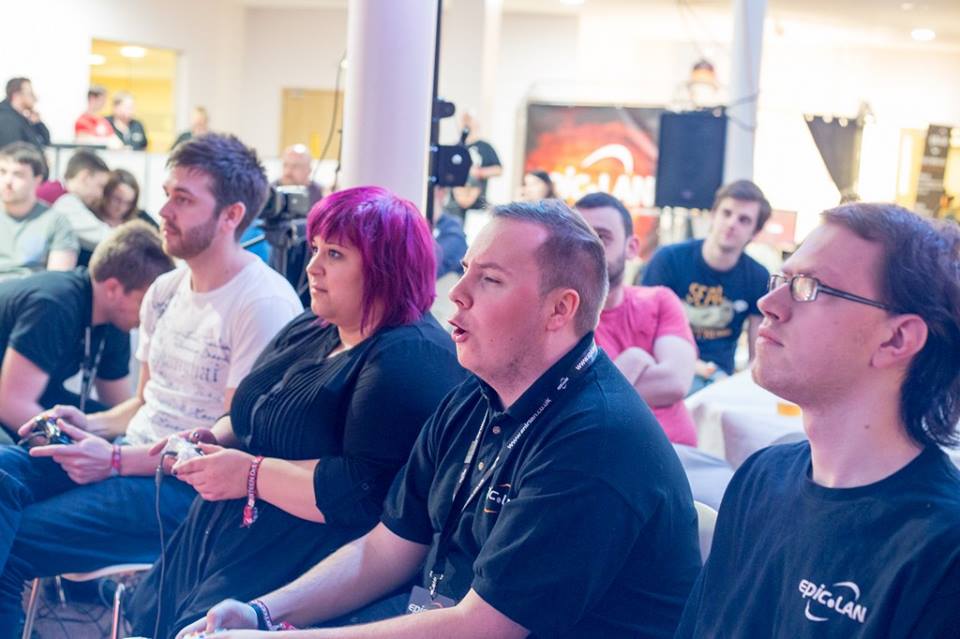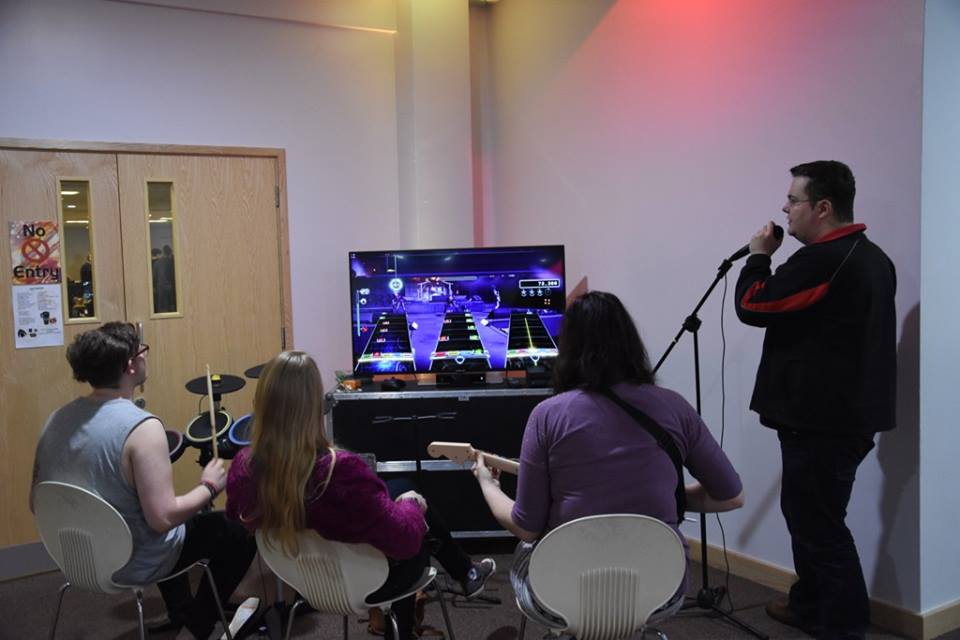 You've been Event team lead since epic.FOURTEEN now, what is it like working with MRated as Event Operations Manager?
I've known MRated for a long time now, we met 5 years ago doing epic.Radio, and we're friends as well as colleagues. He's supportive, just like all of the management team, but he knows how to have a laugh. He's usually the first person to spring in to action if there's an issue. I think we both get the same thing out of staffing; as long as everyone goes home feeling that they've had the best weekend they possibly could, we've done our job right. If there's any problems then I know I can go to MRated for help, and vice versa, we're a very close knit team.
And if someone was interested in joining Event team, what would you say to them to make sure they were prepared for the role?
Be prepared to do a lot of lifting, and not a lot of sleeping. It is hard work, it's never going to be easy to do what we do, but it's absolutely worth it. You'll learn a lot about the build process, customer service, organisational skills, and social gaming. We run the big games and most of the fun tournaments at each event, so it means learning how to communicate with players and being confident enough to just get stuck in. There's also the general duties that we do, such as covering shifts on the epic.LAN shop and keeping the venue clean and tidy, which might not seem very glamorous but are two very important things that help keep the LAN running well. So yeah, it helps if you're not afraid of doing a bit of cleaning up after several hundred gamers! But as long as you're willing to learn and you're motivated, you'll fit right in.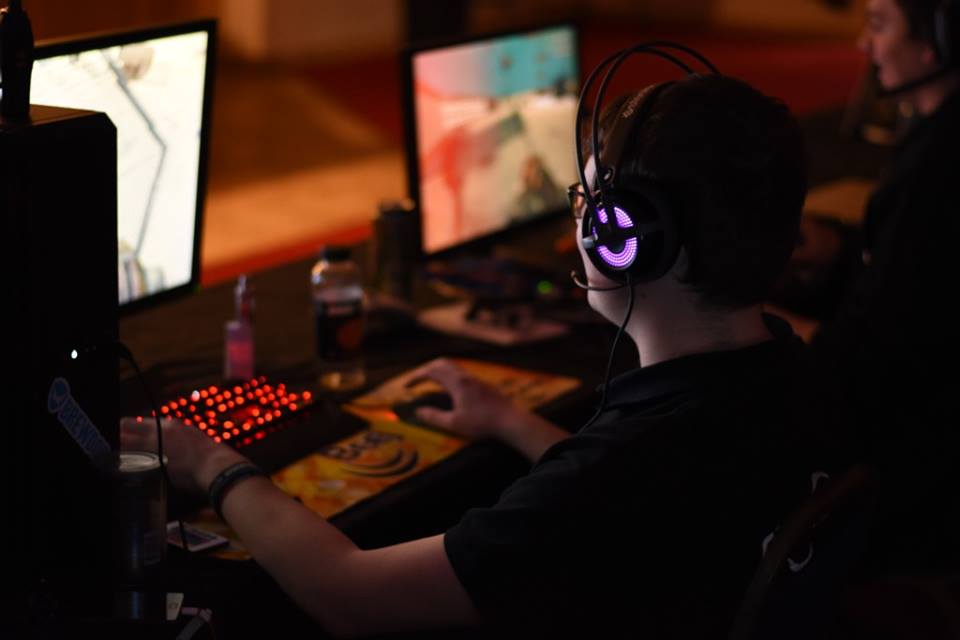 What is a typical day like on Event team?
Every day starts with bacon; I need bacon in life in order to do anything. Generally I have a chat with friends and attendees whilst I'm having my breakfast in the Gallery, it's a nice way to get an idea of the way everyone's feeling that day and how the mood is throughout the LAN. Then it's all about checking the social timetable to get a plan for the day going, and then head down to Lakeside (our social gaming hall) to do PA announcements about the big games and other social events like the pub quiz, fun tournaments etc. Then throughout the day you announce and run big games, do your cleaning checks, help out on the shop if needed, and keep the content team updated with anything that they might want to take photos of or film for YouTube content. We also help to run the Pub Quiz on the Friday night, which keeps us pretty busy!
Favourite game of all time?
Fall Out 3. I have a soft spot for Bear Simulator though.
Dream Team Member?
John Cena. Although, I think he'd get annoyed that his theme tune is played roughly every ten minutes!
Next time, we're going to talk all things social media, production, and content as we sit down with the 'Big Sister' team of epic.LAN; the Content Team.