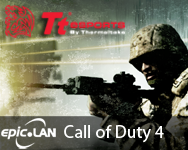 We've seen some massive support for Call of Duty 4 at epic.EIGHT, with 24 teams and a full £2500 prize pot in sight!
So we're happy to reward the fantastic support of the COD4 community with even more prizes for the COD4 tournament thanks to sponsorship from Tt eSports! In addition to the cash prizes and event tickets for the top 3 teams, they'll also get to take away hardware from the Tt eSports product range!
Tt eSports will also be at the event so you can check out the hardware as well as being available on sale at the KustomPCs stand in Hall 1.
With only a handful of team spaces left for the COD4 tournament, then if you still want to take part then make sure you get your ticket now!
Call of Duty 4 Tournament Details
While we have your attention, here are some of the details on the Call of Duty 4 Tournament that you've been waiting for.
Tournament Times

Clan Leader Meeting - 11.00am Friday
Group Stages - 12.00noon Friday
Elimination Stages - 10.00am Saturday
Final - 1.00pm Sunday
All times are subject to change at any time. Please ensure that you check the tournament schedule on the intranet on a regular basis for any changes, particularly at the end of each day.
Tournament Format
Groups - 4 groups, bo3.
Elimination - Top 4 from each group enter the bo3 double elimination stage.