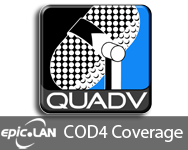 We are extremely pleased to confirm that QuadV will be at epic.EIGHT providing expert coverage of the Call of Duty 4 Tournament!
The Call of Duty 4 community has rallied around to support this event, currently with 22 teams taking part, just 2 teams off the maximum and of course the £2500 prize trigger, with BYOC and TUP places still remaining!
Here's what the QuadV team had to say:
QuadV are today proud to announce that they will be lending their unique skill set to the upcoming epic.LAN at Uttoxeter Racecourse, on February 16th-19th.
What promises to be one of the most high profile Call of Duty 4 events to land in the UK for many years, the country's best and brightest will challenge a collection of the continents stars and descend en-masse to lay claim to the coveted number 1 spot and their share of the £2500 prize.
To bring you all the action, QuadV have despatched community favourite Dennis 'Mennace' Fick to cover the event in full! Dennis' love for all things Call of Duty has continued to grow since joining QuadV in late 2011 and he had this to say about the upcoming event:
I can barely express my excitement to cover this event. We're in for good laughs, good times and most importantly, good games! I wish all the teams the best of luck and can't wait to drag a few people in front of the camera and have some true gamers talking about their game alongside myself. I would just like to say, thanks to everyone who made this event possible!
The show kicks off at approximately 12pm on February 17th and QuadV will be covering the event with the best Livestream available to the limited onsite upload bandwidth and with VODs uploaded ASAP from map completion! Be sure to join the fun, only at QuadV.com