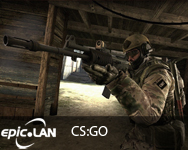 The epic.LAN Counter Strike: Global Operations tournament is all set to hit the stream with 9 teams arriving in Kettering ready to fight it out for a piece of the £1000 prize pool!
There are some familiar names, some not so familiar names, and even a rag tag mix of players formed right here at the LAN.


Interp!
Rasta.mix
Team MINISTRY
TeamCRG
The loveliest men
The not so lovely men
TheLovelyMen
CSGO Lan Mix

Heading into the tournament TeamCRG and The not so lovely men lead the pack with TeamCRG being the returning winners of epic.ELEVEN, and The not so lovely men being a mix team made up of very high ranking CS players in the ranked matchmaking. That is not to say that it will be an easy battle with the likes of TheLovelyMen featuring ex CGS player HenryG and while Interp! is a community team, their roster includes former caster McRossy!
Rasta.mix, Team MINISTRY and The loveliest men are all formidible contenders looking to take some of the limelight away from the favourite teams, while it is always worth keeping an eye on a team formed at an event. CSGO Lan Mix have everything to prove and nothing to lose, will they be able to go toe to toe with rosters with months, if not more, practice as a team?