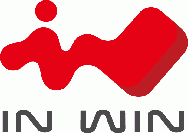 We're excited to confirm the return of another sponsor for epic.ELEVEN, In Win. Founded in 1985, In Win are manufacturers of professional chassis, power supplies and storage devices with a keen focus on the gaming market with the slogan "contemporary and innovative".
The team will be sending over the following prizes for various activities at epic.ELEVEN including our fun tournament series:
We look forward to continuing to work with In Win both at epic.ELEVEN and in the future!