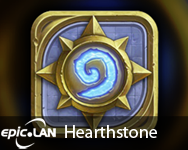 With the huge and growing popularity of the Blizzard digital card-game, Hearthstone, we've decided to announce it as the first of our main epic.FOURTEEN eSports tournaments.
It's likely that we'll run the matches later on in the evenings once more, so people can still take part in other tournaments during the event.
We'll be confirming more of our tournaments over the coming weeks, at this stage we're still looking for sponsorship for epic.FOURTEEN, so we'll be confirming the eSports titles with our base prize pool, and then we'll announce any increases should any partners come on board at a later date.