The Central Stream is going to look pretty elegant at epic.EIGHTEEN thanks to the kind support of noblechairs who will be sending along a selection of their new EPIC Gaming Chair series (sounds like a perfect match for something to display at epic.LAN right?) for use on the central stream and for all of you to check out as you pass through the Gallery at LAN.
The Central Stream broadcasts a range of gaming activities from the event, including casual gaming, interviews, members of the #epicstreamteam, the pub quiz, Joeshow's "Breakfast & Chill" and much more. You can find the stream externally on twitch.tv/epiclan throughout the LAN or locally through the event intranet, so make sure you tune in from this Thursday.
Steven Levitt, PR Manager had this to say,
"We are proud to be involved with the epic.LAN community, and excited to show off our Epic Series line up of noblechairs at the latest and greatest epic event!"
You've got to admit, that's a serious amount of EPIC right there!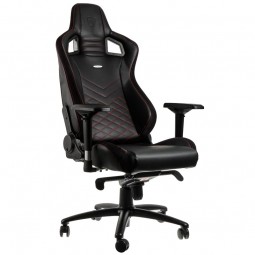 noblechairs is an up-and-coming gaming chair brand whose ambition is to simply revolutionise the market for gamer office chairs with its subtle style designed in Germany. Most notable is their triumphant release of the first genuine leather gaming chair in the world in 2016. Such extremely valuable materials count among the trademarks of the classy brand as much as the impressive list of innovative features and the many fine details of their gaming seats like elaborate embroidery or custom-branding.
The strictly machine-manufactured noblechairs gaming chairs share many of their production processes with luxury car seats made for super sports cars by top brands of world renown. Enthusiasts, gamers and power users alike are being addressed by the brand's gaming chair series, due to their combination of sporty style with the high ergonomics of office chairs. Predominantly responsible for the noblechairs' fabled comfort is a dimensionally stable cold foam upholstery with 55% density straight from the factory without the recycled waste scraps used in many lesser, competing products.
The extensive bill of prime properties of each noblechairs gaming chair further comprises softly cushioned 4D armrests made of polyurethane, 360-degree swivel rotation, flexibly adjustable seat height via a safety class 4 gas lift along with an advanced rocking mechanism, a solid steel frame, a durable five-star base made of aluminium, 60 mm casters with nylon core and PU coating for soft and hard floors, two relaxing cushions with every chair and last but not least a wealth of flexible adjustment options.