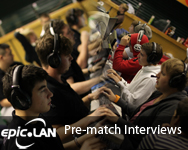 I managed to grab a few minutes with a member from each of the teams prior to the grand final commencing. Thanks to bOWZAr and KritikaL for their time.
bOWZAr from TEAM CRG
So you have found yourselves in the grand final after missing out at epic.SIX, how are you feeling?
Definitely up for it and looking forward to getting started
Having come through from the lower bracket and knocking out Rasta, Would you say the team is at its peak going into the final today?
We were pumped up last night but now we've had some sleep we shall just have to see what we are like when the match starts.
You are up against LiNK, how is the rivalry between the two teams?
There is a lot of rivalry between us especially as I used to be on Luke "KritikaL" Green's team and so it will be a good match particularly with it being at LAN rather than online.
What is your prediction for the match?
It could go either way, just depends on who is on form this morning. We aim to take at least a map off them if not win it.
We have announced a £2500 CSS tournament at our next event in Feb thanks to the support the community have given us this year, what would you say to people considering coming that would persuade them to make that booking?
If you want to keep the CSS scene alive as it is then you definitely need to get your bookings in for epic.EIGHT and keep the event going.
Good luck in the final, is there anything you would like to add?
Thanks to the epic.TEAM for running the event and we shall be back in Februrary.
KritikaL from LiNK Gaming
Having been runners-up at the last event, how does it feel to be having another shot at the title?
Great we are up for it and we expected to make it to the final although are opponents are different as we thought it would be Rasta.
You are up against CRG who have certainly come along way performance wise this year, what are your thoughts on them?
They are one of the best teams around and definitely have the skills and abilities to trouble us. They have been together for some time now so are well practised too.
How do you see the final playing out and what are your predictions on the score line?
I think it all depends on who comes out on top in the first half. If it goes our way we hope the score line to be around 16-6.
With just i44 left on the LAN calendar this year, moving into 2012 we have our next event in February with a prize fund of £2500 – will LiNK be back? And what would you say to teams to persuade them to come?
Yes we will definitely be back in February. The format of the tournament is a big plus for the event as you are not playing silly amounts of group games late into the night and the bo3 format through the elimination gives more of a chance for teams to show their skills.