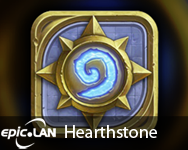 With the huge popularity of the Blizzard digital card-game, Hearthstone, we'll be hosting a fun tournament at epic.THIRTEEN, as well as adding in a seating area for Hearthstone in Fair Isle to make it easier for people to find their fellow heroes.
It's likely that we'll run the matches later on in the evenings, so people can still take part in other tournaments during the day, followed by some casual Hearthstone in the evening.
If there's plenty of interest, we're hoping to at least sort out some hardware prizes for the tournament if not more! So make sure you grab your epic.THIRTEEN ticket and sign up to the Hearthstone tournament now!