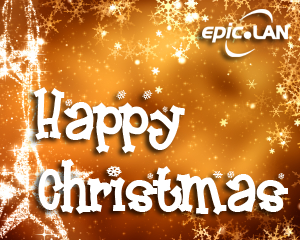 It doesn't feel like it has been a whole year since our last Christmas message, but it's time to say goodbye again to another year and look forward to what 2014 will bring.
12 months ago we were planning our first event at Kettering Conference Centre and that move certainly paid off, with two fantastic events under our belts, including epic.TEN as our biggest to date. Our 2014 events see even more space for our casual gamers and a new partnership with ESL UK for some of our tournament games as we continue to bring you some of the best quality offline tournaments in the UK to help put the good old UK Scene on the map!
We now have nearly 5000 registered users on our website, which continues to grow (we promise the new one is coming soon!) and our LAN parties continue to expand. While some of our more traditional ways of keeping in touch are getting quieter, our Facebook and Twitter channels are gaining new followers daily and will become an even bigger part of our communications with you in the future, not to mention our increased video content through Twitch and YouTube.
A major highlight of my year was when a few of us made the journey over to Las Vegas in January to celebrate my 30th. It meant a lot to me to be accompanied by such good friends that I've made over the years through epic.LAN. We have another trip to the Formula 1 British Grand Prix planned in 2014 and hopefully more non-LAN activities will take place throughout the year to keep the community together in between events.
I'd like to pay a huge thank you to our amazing volunteer staff team that work so hard at and between events. It's extremely hard work, but we all still get the buzz after putting on a great event and seeing everyone enjoying themselves so much. We simply could not run our events without all of their efforts. We are still looking for people to join that great team, let us know if you want to be a part of it in 2014.
I feel that 2014 really should be our year to shine as a UK gaming event and community, we may not be the biggest event, but people enjoy what we do! Let's get more people along to find out what the epic.LAN buzz is all about. Go and tell your friends, your teams, your rivals, your work colleagues or even those gaming relatives and let's make 2014 really awesome!
On behalf of the whole team here, I hope you all have a great Christmas, with our best wishes for 2014.
Jon & the epic.LAN Team