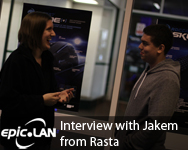 I used the opportunity of Rasta arriving back from their B&B to have a word with jakem about how they faired in the tournament and their future plans.
Having come into the event as two time champions did you feel any pressure to replicate that at this event?
Not a great amount of pressure as the full lineup only came together a week or two ago and so the expectations weren't as high as if we had be practising as a full lineup for months as some of the other teams have.
You faced CRG in the upper semis with a decent win against them but then things just seemed to go downhill, what happened?
Having lost the knife round on nuke it became an uphill struggle from then on really I wouldn't say anything in particular happened we just made it hard for ourselves to win. Also not having well rehearsed strats for all the maps meant we were restricted on what maps we could choose.
With i44 not too far away now do you think you will be able to get back on track in time?
We'll have a sit down after this event and confirm the lineup for the I-series which then gives us time to get some more vital practice in.
What are your predictions for the final?
I think that LiNK will take it however it could go CRG's way if they manage to take the first map, the match then will just be a case of who crumbles first.
We have announced a £2500 CSS tournament at our next event in February, with Rasta having attended 3 events now what would you say to teams that are unsure of whether to attend or not?
Epic.LAN is definitely the best UK LAN for CSS tournaments as it has a great atmosphere being all in one hall. We hope to see more teams for the next event.
Most importantly though, will you be back to try to regain your crown in Feb?
Of course we will.
Is there anything you would like to add?
Shout out to the managers for supporting us