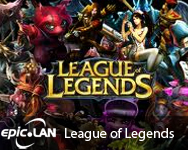 After a lot of consideration, we can confirm that League of Legends will be included in the epic.FOURTEEN lineup. The numbers for League of Legends have been up and down over recent events. It was our biggest tournament last February, but then with a low turnout in July for various timing reasons.
So we've decided to give it another chance and hope to see the UK LoL community build on previous events and hopefully smash the numbers from last February. We'll be launching with an initial prize pot up to £3000 (subject to team signups) with the opportunity for that to increase depending on partner involvement over the coming months.
epic.FOURTEEN takes place from 19th - 22nd February 2015 at Kettering Conference Centre, Northamptonshire. Tickets are available for just £65 with over 25% of tickets already gone.