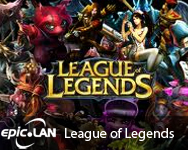 Todays games begin with the group stages, and the following games will be casted on our twitch channel by @s0na and @excoundrel:
9.30am - team car accident vs Molotovs & Marshmallows

10.30am - team car accident vs MyXMG

11.30am - Perilous Void vs Molotovs & Marshmallows

12.30pm - #FDB vs Promethium Gaming Team B

1.30pm - Perilous Void vs MyXMG
The first game sees team car accident face off against Molotovs & Marshmallows, and while on paper they look to be an even matchup, you should pay special attention to the matchup in the toplane. Both play the current standard toplane champions to a high level, so it will be interesting to see if the small champion pool differences are picked up on going into the picks and bans.
team car accident head straight back onto the rift to face MyXMG, one of the higher ranking seeds heading into the tournament, but team car accident could pull an upset, especially if they gain tempo by taking a win in their first game.
Perilous Void again enter the stream as one of the highest seeds, but it is possible that they could be beaten by Molotovs & Marshmallows because once we load into the rift, it doesn't matter what previous experience you have if you cannot perform on the day.
#FDB face off against Promethium Gaming Team B, which will the first time we will see either of these teams on the stream. Looking to be a very close matchup, be sure to keep an eye on Killersheep88 and Marky in the mid lane, both have seen play with a diverse number of champions so will be difficult to ban out, lets see if they pull out any special picks

Perilous Void vs MyXMG looks to be our featured matchup of the group stages, the two highest seeds go head to head in the final group round. With both teams having prior showings at the Intel Xmas Cup, and Perilous Void achieving better results, MyXMG will be looking to exact revenge.