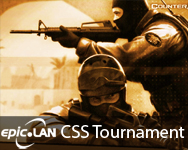 LiNK vs Rasta – Upper Bracket Final


LiNK – PEZ, mini, bash, KritikaL, zed

Rasta – des, mole, jakem, HengryG, Sliggy



Map 1 – de_nuke


Having come straight into the upper bracket final from a close match against TLR, LiNK were definitely well warmed up for the match against Rasta. This clearly showed as despite losing two early rounds the the two time epic.LAN winners they went on to secure the first half 12-3. Kritikal seemed to be playing with the Rasta team especially when he held the ladder at A against the three remaining Rasta players. Zed's team kill grenade against Pez was also a comedy moment for me in the last round of the half.


The second half was a much closer fought battle between the two teams especially with HenryG showing his skill with a nice 4-man. Unfortunately for Rasta it was Bash who sealed the first map for LiNK with a successful plant at B leaving the final score at 16-8.


Map 2 - de_dust2


The second map of the upper bracket final mirrored the first in many ways with LiNK taking the first half (13-2) very easily but the token team kill this time was from des against mole in the second half. The second half again was a much closer affair with a nice moment from Sliggy, hiding at B, taking out Bash during the defuse. Unfortunately it was too little too late as LiNK were able to secure the rounds they needed (16-7) to advance directly into the Grand final to be played tomorrow at 11am.