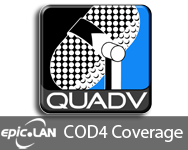 We're very pleased to confirm that QuadV will be returning to epic.NINE providing you with the best on-site coverage of our Call of Duty 4 tournament!
It's looking like the COD4 tournament could hit capacity with just a couple of weeks to go with teams joining us from all over the EU.
Dennis "Mennace" Fick will be heading up the commentary once more so all of you not at the event (why???) can keep up to date with the latest tournament developments.
Not long now, so make sure you grab your ticket if you want to be a part of it!