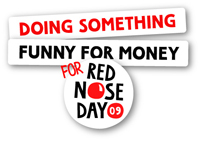 Red Nose Day 09 falls right in the middle of epic.ONE, so we've decided to run a few activities to raise some funds for the good cause both during the event and in the run up online.
Some of the things will include optional entrance fees to some of the activities we're running already where the money goes to the charity, if you don't want to donate it won't stop you joining in.
We'll also be running a few specific activities on the day that we'll be revealling over coming weeks. The first is our Open Mic Session that will be taking place as some extra entertainment on Friday evening while everyone is in Fancy Dress.
If you want to get involved before hand, you can visit our donation page at www.myrednoseday.com/epiclan and if you want to, you can make a donation in advance.
Make sure you all buy a Red Nose too for the event, it would be good to try to get a photo with 100 gamers all at their PCs in red noses!