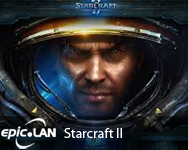 With the epic.TWELVE Starcraft 2 tournament a day away from kick off, players are taking their seats and setting up to get in those crucial practice hours before their big day. Tomorrow we will see the launch of the group stages of the tournament, with the following players battling it out to make it to the double elimination rounds;


COVes Aicy
mYi Boombox
FM Derranging
Fasttrack
FMCLN
hularuns
Impulse iisimonx
FM Ourk
TLR Revoluti8n
TLR Rotcod
TSI Sabre
The favourite to win was originally Dignitas blinG, who unfortunately couldn't make the tournament due to travel issues, giving the other players a confidence boost. The dropout of blinG meant the audience had new favourites to win; TLR Rotcod and FM Ourk. We had a chance to walk around and ask some of the players how they feel about the tournament and what they believe the outcome would be.

"I'm feeling okay about the tournament, I think that FM Ourk is probably the most likely person to win. I want to play against the TLR players just because i used to play for them and it's like a kind of friendly rivalry" - FM Derranging

"I'm not worried about anyone, I think Revoluti8n will win because he's peer pressuring me into saying that. Also I don't think I'm worried about anyone in particular, the only one who can stop me winning is me" - mYi Boombox

Brackets and final prize pool of the tournament will be finalised tomorrow, so stay tuned and keep updated for the epic.TWELVE Starcraft 2 tournament!