Fun and games at the opening ceremony as usual! We had a mini game of Sonic. Speed was the essence here, best time completing the green hill zone stage 1. Four competitors stepped up to the match but it was Ddanblack who sprinted to the finish with a time of 36 seconds a clear 5 seconds ahead of the others. He won himself an InWin mouse mat and other goodies.Next up we had 5 people who attempted to guess what the mystery prize was from InWin. They had to do it in the style of 'who's line is it anyway?' by acting out what they thought it was. The Small Guy was deemed to be the winner with the best act. He won the mystery prize which was an InWin hard drive cover and also some tablet from our friend Graeme at Kustom PC's.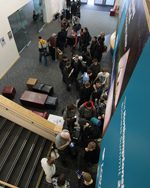 So 15th February saw the first epic at the new venue. We rocked up to Kettering Conference Centre on the Thursday before to be here first thing to get a full day on pre build. Knowing this was gonna be an event which was tight on build time due to it being a brand new venue we knew we would have much more to do than we previously did at Uttoxeter.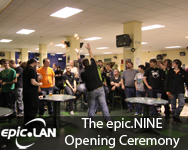 The opening Ceremony at epic.NINE was a bit of a giggle, We had our very own JoeShow reading an excerpt from a very popular novel which when read in his three voices (Sexy, Duke Nukem and DJ) was hilarious.
Next up we had a group of would-be conductors attempting to conduct the Wii orchestra playing the Zelda Theme. With a chance to win a pint from Winbar and a discount off of epic.TEN, competition was tough and in the end with a score of 76 the winner was ddanblack! So well done to him and all the competitors for providing some entertainment at the opening to epic.NINE.
With a countdown from 10 the lights were soon out and it was go go go on what is set to be a great LAN weekend.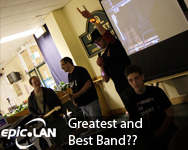 Our opening ceremony rock band competition saw three teams battling it out to win a round at the bar, some discount off epic.NINE tickets and the respect of their peers! The song was Tribute the weapons of choice, two guitars, a microphone and a drumkit.
After a disappointing start by our own epic.RADIO team (some inside sabotage by Jayling I think, We all know how much he loves Tenacious D.......) It was our second competitors that took the title, Team Llama!
With Jay and CyberDrac on guitars, Fatal Impurity on drums and Jobabob on vocals they stormed to victory and rocked the opening ceremony.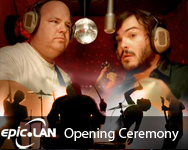 As part of our opening ceremony on Thursday night, around 8pm (though it usually ends up slipping until later), 4 of you could win a round of drinks from the bar from Winbar (yes, really!) AND 4x £5 epic.NINE discount vouchers, but you have to work for it!
Quite simply, all you have to do to be in with a chance of winning is perform Tenacious D - Tribute on Rock Band as part of the celebrations. Our panel of esteemed judges will then base the performance on style, control, damage and agr..... no wait...game score and overall performance.
So get some practice in, let's see those awesome Jack Black impressions on Thursday night!