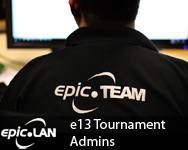 So epic.THIRTEEN is just around the corner.... no really it is! We're all looking forward to the July event and to make sure we have all the tournaments running in an orderly fashion we have a full line up of Admins joining our tournament team this event and they are:

for League of Legends:
Stuart 'Valgar' Bridges
Carl 'Roden' Roden
for CS:GO:
Mike 'Dollon' Sargeant
Richard 'Fenrir' Hillier
for DotA 2:
Jacob 'TheKenwyne' Lawton
for Starcraft 2:
Ben 'Kane' Knight
Chris 'Tetcher' Ivermee
Don't forget to grab your ticket now to be a part of the tournaments at epic.THIRTEEN. Already have your ticket then sign up to your tournament here!