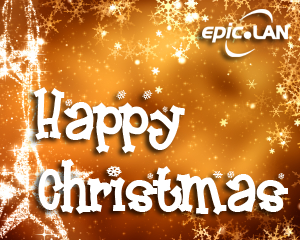 It's been another amazing year here at epic, despite the sad ending of epic.RADIO yesterday, and as Santa begins his journey around the world, we take a look back at 2012.
Our community continues to grow, with over 4000 registered users on our new forums and our LAN events growing in popularity, with epic.TEN already on track to be our biggest event yet. More and more of you are turning to our Facebook and Twitter channels to keep an eye on what we have going on and we're going to try to keep those even more active in 2013. We've had plenty of great community games too, including our regular games nights and our permanent servers, such as Minecraft, we hope to do even more of that for you in 2013.
We've enjoyed 5 really good fun LAN events throughout the year and we would like to thank everybody for attending and of course my appreciation to the great volunteer LAN team who give their time free of charge to put on these events, whether it was our little old-school events in Bagnall or the bigger events at Uttoxeter. I cannot describe how excited we are about our move to Kettering in 2013 and the opportunities this can bring in the future, we have a lot of hurdles to overcome as we settle in to a new venue, there will be problems at epic.TEN I'm sure, it's never going to be perfect when you change so much, especially with new tournaments and our biggest ever casual gaming crowd, but we do have a great community and I'm sure you'll support us in the transition.
Earlier in the year, we also partnered up with Fasthosts and GameShadow to run two big online tournaments for Call of Duty 4 and Counter-Strike: Source, each with 128 teams and a £5000 prize pot. It was the first tournament on this scale that we've been involved with and with the exception of a few teething problems (and some teams not liking our way of doing things because it's 'not what everyone else does') we had some great feedback. We learnt a lot from the event and we'd certainly love to get involved in similar activities in the future.
We also had another fun community trip to the British Grand Prix at Silverstone, even if it was a muddy wash-out, but thanks to Hodg, Inferno, Booti, Matthab, Saboo, MRated, Murray-Mint, JoeShow and Jay for a great week.
It's been a year for weddings too, with staff members Hg & KamiKaze getting married in June and then Dunceantix and Louise in August as well as community members Hodg & Chilli, congratulations to you all.
Sadly, epic.RADIO closed yesterday, but it's had an awesome run for the last 13 months. I'm very proud of what we achieved and can honestly say we did everything legally, which certainly isn't always the case with online radio elsewhere. Unfortunately the success and honesty lead to its downfall in the end with the costs of running a UK-based radio station exceeding the income through advertising and donations, so I had to make the very tough call of closing it, at least for now, and made sure that I put these concerns across to PRS for Music and PPL UK who are responsible for music licensing in the UK. I would like to thank all of the staff that worked on the station throughout its life, but especially those who stuck with us until the end, not to mention the great listeners, advertisers and donors we had throughout its time.
So 2013, bigger and better LAN parties, more online gaming and hopefully some new services coming your way as we expand our activities outside of LAN events, stick around, it's going to be another great year. And don't forget to throw your questions my way for 'Ask Winbar', I'll try to answer as many as I can!
On behalf of the whole team here at epic, I'd like to wish you all a very happy Christmas and all the best for 2013.

Jon