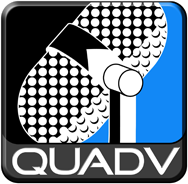 epic.LAN will once again be partnering with QuadV to bring you some top notch coverage at epic.TEN for our Call of Duty 4 and Counter-Strike: Global Offensive tournaments.
As regulars to our events, QuadV will be broadcasting a selection of the best COD4 and CS:GO matches from their on-site studio, meaning not only do you get to see the fantastic gameplay; but you'll also be able to experience the atmosphere through the live video and audio feeds on the players in the tournament hall.
Leading the commentary team for epic.TEN will be Lauren "PansyYyy" Scott and Chris "Panky" Pankhurst, plus they'll be joined by a number of guest commentators throughout the event.
Lauren had this to say about epic.TEN,
So guys we are back! With epic.TEN providing a fantastic new venue, we had to step up our game and get ready to bring you the best CoD4 and CS:GO coverage we can. So get yourselves ready for an FPS filled weekend brought to you by Panky and myself, in partnership with QuadV in Kettering. Hopefully you are as excited as we are, so cu on!
For the latest coverage details during the LAN, make sure you keep an eye out at epiclan.co.uk.