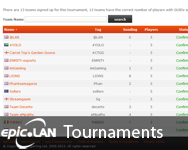 The team signups for our main epic.ELEVEN tournaments are now open.
Once you've booked your event tickets, head over to our tournament site, log in with your normal details and then either create a new team, or join an existing team using the password from your team leader.
All teams need to be signed up and confirmed by 8pm on Thursday 25th July, but the sooner people get teams sorted, the sooner schedules can be released!