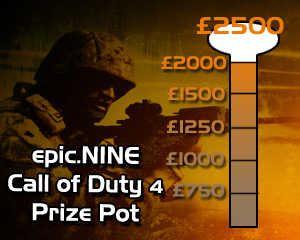 Great news! The fifth prize trigger for the epic.NINE Tt eSports Call of Duty 4 tournament has been reached giving the next guaranteed prize of a whopping £2000!
With 22 paid or part-paid teams for COD4 and still a few more interested, and confirmed QuadV coverage it looks like we'll be hosting one of the biggest UK COD4 tournaments of 2012 at epic.NINE!
What are you waiting for? Go and, get your ticket now!