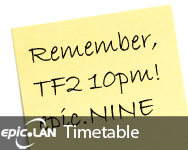 You've read all about our fun and competitive tournaments so far, and just to make sure there's plenty to keep you busy throughout the epic.NINE LAN Party, here's our full timetable!
Obviously some things will always be subject to change, but it gives you an idea of some of the big games and activities we'll be running through the event.
Just because a game isn't listed, doesn't mean it won't be played either! These are just the big games we organise to get as many people as possible in each server, you can play whatever you want, whenever you want during the event, and if you want to get more players, you can either post on the forums, send a message to our big screen through the "Tweetwall" or ask a member of the epic.LAN team to put an announcement out for you.
Mere days, see you at epic.NINE!