epic.LAN is always proud of the casting teams it offers for it's events and this event is no exception. We have got an exciting range of fresh faces and seasoned talent on the cards for epic.SIXTEEN - So check it out!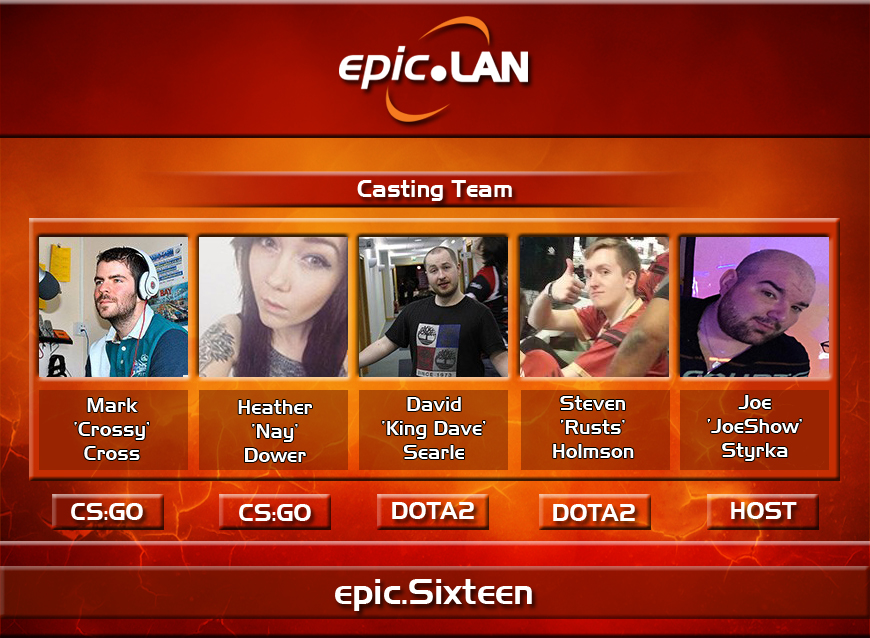 Mark 'Crossy' Cross
Counter Strke: Global Offensive
Crossy joins us again at epic.LAN for his second event with us. Local radio DJ and eSports extroidnaire! With a wealth of knowledge on the game and already an established eSports talent, Is there anything this man can't do?
Heather 'Nay' Dower
Counter Strke: Global Offensive
Nay and her army of Naysayerz will be joining us with her first ever event casting from a UK based LAN event. Already an established and well recognised YouTuber we welcome Nay to the team!
Steven 'Rusts' Holmson
DOTA 2
Rusts will be joining us again at epic.LAN after working with the epic.LAN team on the DOTA2 EGX Challenge it only made sense that he help us cast the event also! Rusts is one of the most recognised UK Dota2, check out Rusts YouTube channel.
David 'KingDave' Searle
DOTA 2
KingDave, although newish to the casting scene has a wealth of knowledge under his (perverbial) belt (I'm not sure if he wears a belt or not). With excellent game knowledge and also has a good understanding of the UK DOTA2 community. You can find Dave propping up the bar or casting excellent games of Dota2!
Joe 'JoeShow' Styrka
Central Stream / Host
Sup guys! It's the JoeShow! Joe is back once again and will be manning the epic.SIXTEEN central stream as well as playing host to the event. Expect to see Joe throughout the weekend whether it's taking part in fun games, interviewing prospective teams or just trying to hide from the world, JoeShow is here!
With a fantastic talent lineup for epic.SIXTEEN we are really excited to get things underway! You can check out all the action from the weekend live on our Twitch channels. C U THERE