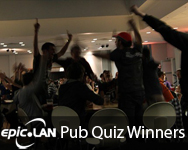 So another event has passed us by but its been none stop with fun tournaments for our social gamers. epic.TEN saw fun tournaments in Just Dance on the consoles, F1 2011, UT2K4 and minecraft create. Plenty of people got involved with these to provide some great entertainment over the weekend.

We also had the pub quiz which had a record number of participants this event. We saw some regular teams returning to defend their quiz titles and go all out for winning and some new teams who fancied their chances. In the top few teams it was quite a closely contended quiz with just three teams in the end who were seperated by only one or two points. The winners this event were Streamgasm closely follwed by Can'tfitmyn and Rebel Scum. Full Pub Quiz scores and results will be posted shortly after the event.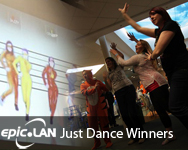 In our Fun Tournments the winner of the F1 2011 was Booti who took home an AOC monitor, Booti is becoming quite the regular podium taker in our F1 2011 tournament so lets get someone to epic.ELEVEN who can give him a run for his money.
Our Just Dance Tournament saw Gunmens, Swyft and Adunas strutting their stuff on the dancefloor to Barry White's classic 'My Everything'. After this first round Gunmens was sadly knocked out leaving Swyft and Adunas to battle it out for 1st and 2nd dancing to 'The Final Countdown'. It was pretty close competition but Adunas pipped Swyft to the post and claims 1st prize. Adunas took home a case from In Win
Our ever popular UT2K4 Tournament saw a huge number of entries. After a 3 stage elimination over three maps saw 27 fight it out 4 each map getting knocked out over these three maps we saw the players whittled down to 13 for the final on Deck17. The final map a popular choice and well known map by all saw the final to be very interesting with players seeming to spend more time in the lava than killing others. After all the headshots and lava time we came out with Vardy in first (no surprises) Riot picking up second place and coming third was Theo. Vardy took home a Capture Card from Aver Media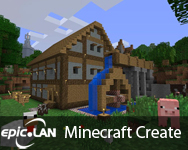 Finally our minecraft create competition was interesting with not many teams taking part but what was built was more than spectacular. With a theme of Disney we saw two teams get straight into the server and take a clear lead in building two huge structures with another team following closely behind them with their creations. On one plot we had a fully functional Disney Castle with rides and fireworks and in one we had a Pirates Of the Carribbean Ship with working cannons (even tho they only fired arrows) set onto a beach scene. The winners in the end were announced as Sandbox Warriors with their Disney Castle design. The winners took home Roccat Mice