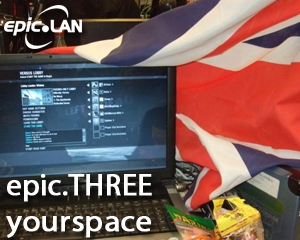 If you're going to spend nearly 4 days with us at epic.THREE, then you may as well make the space you're living in your own while you're there.
We're pleased to announce the return of the Decorate Your Desk competition at our next event after some great efforts made at epic.TWO, but this time we want more people taking part!
Prizes will be available to the most creative way in which people customise their space at the LAN and will be judged on the Friday evening of epic.THREE.
The main rules of the contest are that the entry must be safe, cannot use loud noises, cannot plug into the event power system and cannot excessively irritate your neighbours!
This is just the first of our mini-contests to be announced for epic.THREE, but you can only take part if you're there. Visit the epic.THREE site for more details and to sign up.