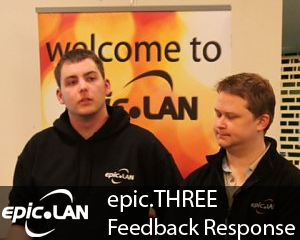 Every event, we collect your feedback. For epic.THREE this was through speaking to people at the event, our surveys and from the forums.
We collect this feedback, not just to give you an opportunity to say what you thought about the event, but so that we can go away, consider it and make actual improvements to make sure that you all keep coming back to our LAN Parties.
However, we're also quite honest when there is feedback about something that either we cannot fix, or do not feel that changing that particular aspect would work for our events, we hope that you appreciate our being honest in these cases and explaining our reasoning.
We've now gone through all of your epic.THREE feedback with the team and also with the venue and can now confirm some of the improvements we'll be making for our next main LAN in July.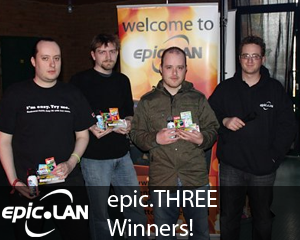 Over the epic.THREE weekend, we ran a number of fun tournament events for anybody to take part in.
Prizes were provided by our friends at Crucial, Kustom and Dust Off.
The tournament winners were:
Trackmania
Winner - Fatal
Runner Up - Dae
Defcon
Winner - Orvil
Runner Up - Cyberdrac
DJ Hero
Winner - Ghozer
Pub Quiz
Winners - Murray, why did you leave us?!
Runners Up - 2 guys, 2 girls, 1 cat
CSS One on One Rifle Trifle Cup
Winner - Bez
Runner Up - Fuz
Team Fortress 2
Winners - One Gunsmith, One Deer
Runners Up - Box
Hunt
Winners - Astrolox, Superchief, qbnut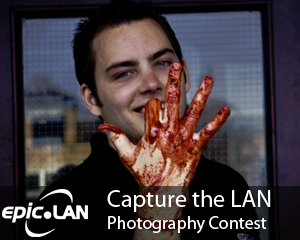 YOU, yes you. We saw you taking photos of epic.THREE! We have something special for you - our Capture the LAN competiton. Submit your best 5 photos to us and we'll put them up for people to vote on! We'll also dig out a prize for the winner and show off the best entries in our gallery.
To submit your entry, create a folder on our FTP and upload your photos. You have until Sunday evening!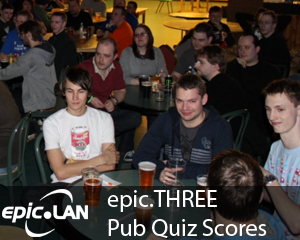 Sorry for the delay, it's been quite hectic for the team since packing down from epic.THREE, but you can now view the scores for the epic.THREE pub quiz which was won by team "Murray, why did you leave us?!" in the last minute thanks to a successful final bonus round question.
Congratulations to everybody who took part, a total of 65 players entered the quiz, so about 3/4 of the event, that's what we call a big game!
Also a well done to most of those people in the boat race!
While there were some questionable levels of performance, with far too much spillage, there were some truely epic displays of drinking skill.
Both the pub quiz and boat race will be back for epic.FOUR in July!
The last gamer has left the building and packdown has begun, we'd like to thank everyone for coming to epic.THREE.
We published a survey on the intranet at the event for you to fill in and tell us what you thought. The same survey is now available online! It's only accessible to people who went to epic.THREE and if you already answered it at the event, we have your answers already!
There's also a feedback thread on the forums for more in-depth feedback. Tell us the good, the bad and the ugly about epic.THREE!
Tell us your thoughts on what we did right, what we did wrong and what we can improve; and together we can make epic.FOUR our best event yet!
Get your wooly hats and mittens out as nuclear winter is coming. Millions are set to die at Uttoxeter Racecourse as independent British game developers Introversion hands over the keys to the World's nuclear arsenals with a Turn Up and Play DEFCON tournament at epic.THREE; with the winners walking away with one of 8 full game keys.

Judgement Day is set for 25th - 28th Feburay 2010. Book your seat for the end of the world!
It's Global Thermonuclear War, and nobody wins.
But maybe - just maybe - you can lose the least.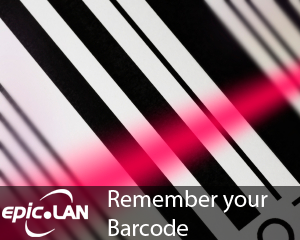 Don't forget while you're packing all the rest of your kit for epic.THREE to grab a print out (or screenshot for mobile phone) of your Booking Pass for the event.
To get to your Booking Pass go to My Account > Event Bookings > epic.THREE > Print Your Booking
The more people that bring their booking pass, the quicker we can get people processed at reception and the sooner you can get setup ready for an epic weekend of gaming (or to the bar, whichever!)
And remember, when you check-in to the event, you will be given a fabric wristband which you need to wear throughout the event, it will be checked by the bar staff if you wish to get served, and every time you enter the venue by the epic.LAN team and the external security company who will be on duty with us in the evenings.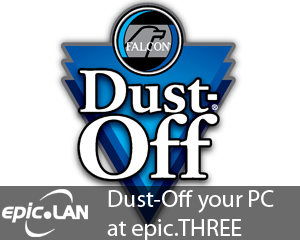 Dust-Off®, the official PC and console cleaning product of the World Cyber Games, is the go-to-source for PC and console maintenance and care. Dust-Off products supply gamers with a well-rounded system to keep their expensive PCs clean and running at the highest level of performance. The Dust-Off family of consumer electronics and gaming products includes compressed-gas dusters, micro-fibre cloths, assorted cleaning wipes and the renowned Keyboard Quiver, the official bag to WCG Team USA.
"Professional gamers count on a clean gaming system to help give them a competitive edge in head-to-head competitions and tournaments," said Ken Newman, Director of Marketing for Dust-Off. "But amateurs and casual gamers alike can also benefit from keeping their gear clean. Whether using a Wii, XBox, PS3, PC or laptop computer, this is a must have accessory for gamers of all skill levels, one that will help them effectively keep all of their components clean and ready."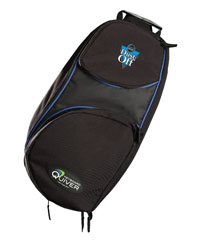 Jon Winkle, Managing Director of epic gaming Ltd. added, "We're extremely pleased to be working with Dust-Off for epic.THREE but also hopefully as part of a long-term relationship not only to provide the opportunity to try & buy cleaning & maintenance accessories at our events, but also to help educate our community on the benefits and techniques of maintaining a clean and efficient gaming system."
Participants at epic.THREE will have the opportunity to lay their hands on some 100ml Gaming Dusters and Monitor Wipes as part of a series of random giveaways and competitions. In addition, everyone who completes a brief survey about PC cleaning/maintenance at the event will be entered into a prize draw to win a Keyboard Quiver (RRP £61.99) to protect your prized peripherals.
And with epic.THREE officially just mere days away now, there are now even more reasons to book your place straight away!
Moving on from pretend DJ'ing with this to the real thing.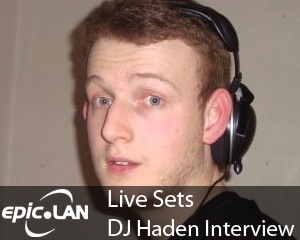 So you're booked for epic.THREE and you will have seen that we have not one but two guest DJ's playing live sets at the event! Wondering what you can expect from them? To settle your nerves I have personally hunted down the elusive DJ Haden. I say elusive, all you have to do is create a new facebook group and Haden will join!
Anyway back on topic, hit the Read More link below to read our interview with the first of our DJs for epic.THREE.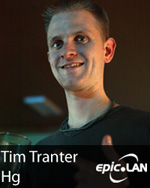 After a number of applications and interviews. We're proud to announce the arrival of Hg to the team.
Hg will be joining us ready to help out with epic.THREE, particularly working on some of the big games, fun tournaments and event content, as well as helping out with the online community activities, such as our regular games nights.
On joining the team, Tim said, "I'm sure I will enjoy the role and enjoy working with the current epic.team as they are already friends."

"I applied for this role as I have made some great friends in the epic.community and I have enjoyed myself at all the epic events and lately online during epic.Tuesdays and of course in IRC.
As such I wanted to make sure this is same for all members of the community, ensuring they enjoy epic and what it has to offer!"
We all look forward to working with Hg for epic.THREE and beyond.
Page 1 of 3