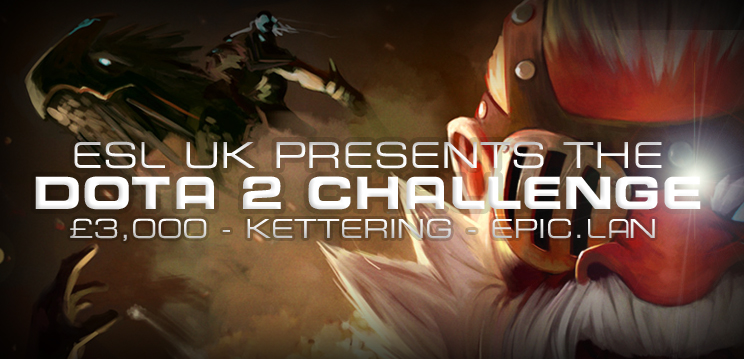 ESL UK and epic.LAN are pleased to announce a partnership for the next instalment of the popular offline event series, epic.TWELVE. The joint venture will see the inclusion of a guaranteed £3,000 DOTA 2 competition in February 2014.
Peter Mather, Community Manager for ESL UK says,
This new partnership will be beneficial to both of our collective communities, and the greater competitive scene as a whole. We've always been long-time supporters of the epic.LAN initiative, they bring something unique to the competitive scene that is sorely missing, a well-run community driven event led by passionate volunteers, and we simply want to help them reach the next level in their natural evolution. The plan is to roll out a series of offline DOTA 2 events throughout 2014, creating a consistent flow of competition, though this will be hugely determined by the interest shown at our first event in February."
epic.LAN re-established their roots within the UK gaming scene back in 2009, and have been championing gaming ever since. Starting out from humble beginnings, the event has quickly soared in popularity, seeing hundreds of gamers attracted by affordable ticket pricing, efficient tournament organisation and a strong community focus.
Jon Winkle, Managing Director for epic.LAN added,
These really are exciting times for both epic.LAN and the eSports scene in the UK as a whole. Our partnership, and the passion for high quality competitive gaming from both parties, gives DOTA 2 a huge opportunity to develop in the UK to the level it really deserves. It may not be 'The International', but with epic.LAN and ESL UK working together, we are going to show the community what we are really capable of! We look forward to both epic.TWELVE and our continuing co-operation with ESL UK."
The partnership is hoped to help expand the competitive DOTA 2 community within the United Kingdom, which has up until this point faced a series of bleak opportunities within the localized competitive scene.
The £3,000 DOTA 2 competition will be open to teams who have purchased an epic.LAN Bring Your Own Computer (BYOC) ticket, granting participants access to not only the ESL DOTA 2 competition, but full access to the epic.LAN event itself. Sign-ups are already open, priced at £60.00 per ticket for the LAN, players must also sign up to the tournament on the ESL UK website to take part.