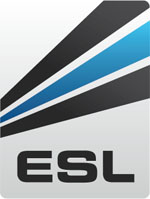 ESL UK partners with epic.LAN for the thirteenth instalment of their gaming and eSports LAN series. As part of their partnership, ESL UK will be boosting the prize pool through their partner network by £1,000 in a bid to help stimulate development within the UK's Counter-Strike gaming community. ESL UK will be providing full coverage of the Counter-Strike: Global Offensive competition, alongside the event as a whole throughout the weekend.

Peter Mather, Community Manager for ESL UK commented saying:
"We're really excited to be solidifying our partnership with epic.LAN after a fantastic event back in February. We've got some awesome plans in development for the next instalment to help bring the event live to your living rooms, and really add some extra value for the talented sides that will be joining us throughout the weekend. The team over at epic.LAN are amazing to work with, and I'm sure that this partnership will see us bringing one of the best UK Counter-Strike competitions to date!"
The competition will feature a minimum prize pool of £1,000, with the possibility of expanding to £4,000 based on community interest.
Jon Winkle, Managing Director of epic.LAN stated:
"Following on from the success of the Dota2 challenge at our last event, and with the current growth of CS:GO, we're very excited to partner with ESL UK once again for epic.THIRTEEN this July. With the boost in the prize pool and the exciting coverage plans, the tournament is certainly going to be one to watch in the UK and beyond."
Teams that wish to take part in the tournament need to head over to www.epiclan.co.uk/epic13 to purchase their event tickets, allowing them entry to the three day event alongside the eSports tournaments that are due to take place over the extended weekend.
About ESL UK
ESL is the world's largest eSports company, leading the industry in raising eSports production and audience levels to those of mainstream sports. With offices across the globe, including the United Kingdom, it has a truly global footprint. Creating events across the eSports spectrum, including high profile international and national leagues and tournaments, such as the Intel Extreme Masters, ESL Major Series and the National ESL Pro Series, ESL endeavours to create a competitive environment for every player, no matter their skill level.

In the United Kingdom ESL UK runs regular broadcasts from its event and production studios, based primarily within the central midlands. Alongside studio productions, the mobile production team hosts and broadcasts tournaments across the United Kingdom. With a rapidly expanding user and spectator base, ESL UK has been increasingly successful in its ambition to deliver amazing gaming experiences conveying the thrill, emotions and excitement of competing at the highest level.

About epic.LAN
The team behind epic.LAN has over 10 years of experience delivering gaming events for both social and competitive gamers as well as a wide industry experience. The team are also avid gamers themselves and you will often see them on online servers as well as visiting LAN events worldwide to look at what works best for their home LANs.
epic.LAN's eSports expertise covers a huge range of their own offline events as well as tournaments for a number of external clients both online and in venues from Birmingham's NEC to the Wembley Stadium.