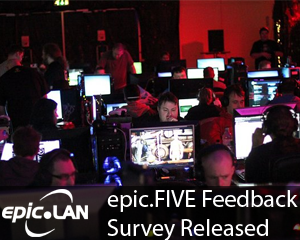 First off apologies for not getting the feedback survey up before the end of the epic.FIVE, the entire staff team were too busy (and last night I feel asleep whilst the laptop booted)!
As many of you know, we put up a feedback survey which allows us to collate feedback and analyse in an objective fashion. This is especially useful when we want to quantify comments to the various third parties used during the event.
You can access the survey here, but remember it will only be available to those who attended epic.FIVE.
Please feel free to continue to add comments to the feedback thread on the forums, but if we are to use the comments in our de-briefings they need to be captured on the survey.