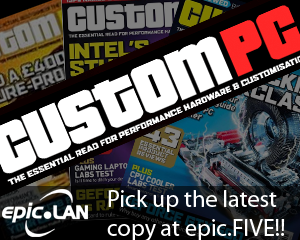 Custom PC, the UK's essential read for PC hardware, games and for PC modding enthusiasts, will be sending us 100 copies of their latest magazine for you to enjoy at your leisure at epic.FIVE!
The magazines will be placed all over the event, in both Halls 1 and 2, allowing you all to catch up on the latest news and reviews in between your gaming.
About Custom PC
Custom PC is the magazine for people who are passionate about PC technology and hardware.Whether you've been building and customising PCs for years or you've just started performance-tuning ready-made systems, all the information you need is now in one place.
Custom PC isn't just another PC mag - it's the ONLY magazine with enough space to devote whole pages to single product reviews. And we're not talking boring printers and hum-drum peripherals, but the best performing components - whatever your budget.