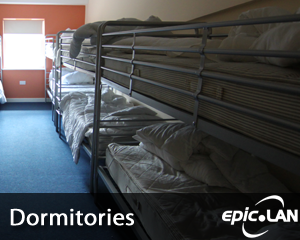 Looking for somewhere to sleep at epic.FOURTEEN in a real bed and don't want the hassle of getting a taxi every night? Don't forget we have around 60 on-site dormitory beds available to book alongside your ticket for just £70 for the weekend.
Dormitories need to be booked by Friday 13th February at the latest. To add a dormitory to your existing booking, select your epic.FOURTEEN booking and go to 'add services'.
We also have limited indoor floor space for sleeping available, but it is on a first-come-first-served basis, note that adding it to your booking doesn't guarantee space on the day, it's just to give us an idea for numbers.