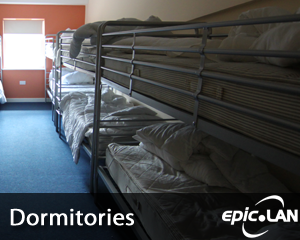 Looking for somewhere to sleep at epic.FOURTEEN in a real bed and don't want the hassle of getting a taxi every night? Don't forget we have around 60 on-site dormitory beds available to book alongside your ticket for just £70 for the weekend.
Dormitories need to be booked by Friday 13th February at the latest. To add a dormitory to your existing booking, select your epic.FOURTEEN booking and go to 'add services'.
We also have limited indoor floor space for sleeping available, but it is on a first-come-first-served basis, note that adding it to your booking doesn't guarantee space on the day, it's just to give us an idea for numbers.
It's a LAN, you aren't supposed to sleep, but if you must then we have a number of sleeping options available.
Camping - Our recommended option. If you want a quiet night away from any noise then we have masses of free camping space available for you in the centre-course area.
Indoor Sleeping Rooms - We have two indoor sleeping rooms available for this event, and one has been designated as 'non-snoring'. Please do bear in mind that these are communal sleeping areas and therefore there will be some noise of people coming and going in the night. Indoor sleeping room space is limited, there is no guarantee of enough space indoors for every participant. Please help by only using a single airbed.

Off-Site Hotels and B&Bs - Spend your weekend in luxury in one of the town's large number of accomodation options, some of which have been listed on our Sleeping Page.
Gaming Halls - We don't mind you getting some sleep in the spare space in the gaming halls, however this needs to be in a position where you do not block the rows or any emergency exists. We will ask people to move if you are causing a fire hazard, so make sure you find a corner out of the way.
You can view the location of these various sleeping spaces on our handy Google Map (note that you will need to use a browser capable of showing Google Maps layers).