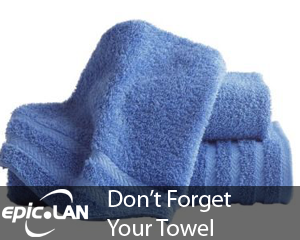 I wrote this some time ago as a piece of advice for people attending LAN events, and thought it was about time to resurrect the post!
Sometimes the whole event experience can be ruined by poor health during the LAN, but a lot of this can be prevented (if you think about it though 100+ unwashed peons crammed into a room eating crap for a weekend, it's a recipe for some sort of disease to spread).
So we've put together a few tips to help make your LAN weekend more enjoyable. In addition, you should also take a look at our What to Bring pages to make sure that you don't forget some key item of kit for the event, you know...like your PC!
Surviving the LAN Party!
In an attempt to minimise casualties of war in our LAN events, we have compiled the following advice to ensure people maximise their enjoyment at the LAN without suffering from the infamous "LAN Death" before the end of the event. Whilst this has been written around our own events, some of the principles will apply to lanning in general!
Eating
One of the quickest ways of becoming unwell at a LAN is through eating too much crappy snack food, though this often gets blamed on poor hygiene and bad cooking! Whilst it's tempting to go and stock up on Pringles and Haribo on your trip to the supermarket on the way in to the event, these are great for snacking through the night, but are by no means classed as a balanced diet! Try buying some fruit and just eating a couple of pieces through the day and night, you'll feel much better for it!

We would suggest getting yourself at least a decent breakfast and evening meal. At our Uttoxeter and Bagnall venues, you will find breakfast being served from 9am - 11am in the gaming halls; you could also bring along normal breakfast supplies like cereal and use the provided fridge to keep your food in. If you're from up north, then get yourself a packet of oatcakes, some cheese, put in the microwave and you're sorted!

For the evening meal, try to make this one a full and balanced meal whether it's a take-away or something you prepare yourselves, there are plenty of local places to visit or deliver to the venue. This just leaves you with lunch to sort – go for a sandwich, pasty or if you really must, some sort of just add water snack like a Pot Noodle (if you've got the horn), pasta/salad is great for your LAN lunch if you want to go with the health kick.
epic.LAN provides a snack shop of crisps; biscuits and chocolate which is open throughout the event, but do make sure you have some meals in between your snacks!
Drinking
Let's take a look at drinking in its various forms at a LAN.

Alcohol – Well it is a party after all, so as long as you are over 18 then there's nothing wrong with a drink or two at a LAN. Same precautions as if you were going out normally though, balance out your drinking with water to rehydrate. You'll often find a range of drinking games taking place through the event, just check the rules before you join in and if any of the event staff think you've had enough to drink, then it's usually a good idea to stop! And if you fail all over the place, we will make you clean it up.

Caffeine –Everyone loves to try and stay awake at a LAN, and obviously the caffeinated drinks help you to keep going. Some of the caffeinated drinks on sale are quite strong and very sugary. Just like with the alcohol, keep an eye on how much you drink and alternate the caffeine with soft drinks or water, the staff don't want to have to fetch you down off the ceiling!

Soft Drinks – Fruit juice and water will really help to keep you feeling healthy and alert at the event. Drinking a good balance of everything above will stop your stomach getting unsettled over the weekend. Isotonic sports drinks (E.g. Lucozade/Powerade) are great for settling that morning hangover!
Sleeping
Especially if it's your first LAN, you probably won't want to go to sleep and try to stay awake through the whole event. We've seen so many try and so few succeed. Sometimes people do make it through the first night, and then in the early evening of day 2, we usually find them slumped over their keyboard with a fine imprint of QWERTY on their forehead. We all know that you should aim for 8 hours sleep normally, but it is an event that runs through the night. Learn your own limits and try to get a few hours sleep each evening at least, or you could try odd power-naps through the day.

When you do go to sleep, then make the most of it. Get yourself away from the gaming hall and in to either a tent or the sleeping room. If you do end up falling asleep on your desk, your back will hurt in the morning! While we're at it, you may want to bring a cushion or a pillow to sit on through the day.
Spending
If you're trying to LAN on a budget then set yourself limits on spending, you can pre-order your caffeinated drinks before the event so you can limit yourselves to what you buy in advance. We also run an event account system where you can top up an electronic account with cash, Paypal or credit/debit card. You can then use your event account to pay for items from the snack bar through the event, but you can't use it on the main bar or catering outlet at Uttoxeter as they is run by the venue.

Make the most of special offers when you stock up at the supermarkets. Put together around £5-7 for your evening meals each day.
Oh, and don't forget that we usually run an early booking discount, so if you get yourselves organised and pay in advance you'll save yourself a few quid.
Cleansing
When you put 100 people in a small space for 3 days, then poor hygiene becomes very quickly noticeable. Germs will spread quickly and the room will start to get a bit whiffy unless everyone adopts good hygiene. So to keep the bugs and smells at bay try to keep your desk area tidy, there are bins throughout the venue and event staff will do regular patrols to collect litter.

Showers are available at the Uttoxeter venue and free for participants to use, use them! Also note, the sinks are there in the toilets for a reason. You may also want to think about buying a small bottle of antibacterial hand gel as an extra precaution.
Exercising?!
What? Surely Not? It doesn't hurt (much) to get up off your chairs for a while over the weekend. You'll often find a game of football going on, a trip to the swimming pool or even a group going for a walk into town to grab a takeaway. Try and mix in some occasional physical exertion with your gaming.