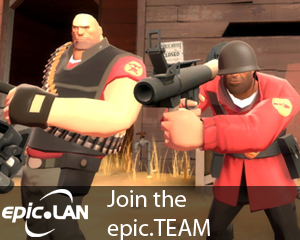 Those of you at epic.FOUR will have heard about some of our exciting new plans for 2011. If you weren't there, you'll need to wait a little bit longer before we reveal the details!
But in the mean time, we need to start recruiting our new team for epic.FIVE in February 2011. Yes, we know it's a long time off yet, but we have loads to plan and we want the new team to be a part of that process.
We have a number of vacancies to join the current team ready for our new events including the following:
Event Team

- Part of the event team for the LAN parties including running social activities, basic technical support and helpdesk/shop. Must have attended a previous epic.LAN event.

Team Fortress 2 Lead Admin

- We are looking for an experienced TF2 tournament admin (either LAN or Online) to join our new tournament team for epic.FIVE. The lead admin must have a high level of knowledge and experience of the competitive elements of TF2.

Team Fortress 2 Game Admin

- Somebody with reasonable knowledge of TF2 to provide tournament admin support to the Lead Admin and Tournament Manager.
There may be other vacancies arising as more detailed plans for the event are made.
If you are interested in any of these positions, then please contact us via email detailing your knowledge and experience and why you think we should consider your application to become part of the team. The closing date for applications is Monday 6th September. Further stages to the application process, such as an online interview, may be required depending on applicant numbers.
Good luck!