Winbar parted with a large amount of money recently to confirm that next years bookings are now in the diary. We are pleased to announce that epic.Twelve in February is now open for bookings and takes place Friday 14th - Monday 17th February 2014 here at Kettering Conference Centre.
Confirmed for the Tournament side are Starcraft 2, League of Legends and CS:GO. We'll also have the usual mix of Big Games, Fun Tournaments, DJ Slots and Pub quiz with lots of fun and shenanigans all thrown in for good measure.
Early bird discount ends September 30th @ 8pm so get your bookings in nice and early to save yourself a tenner. Lets make epic.TWELVE the biggest epic.LAN yet!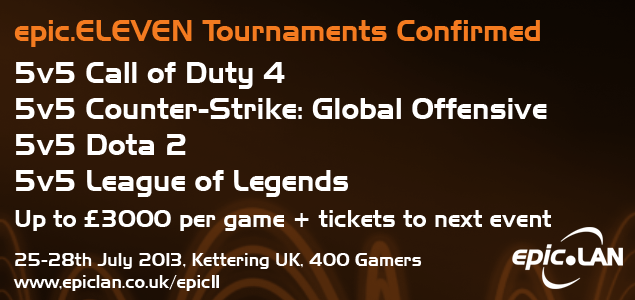 After the great response to epic.TEN in February, we've decided to stick with the same tournament lineup for our next event, epic.ELEVEN in July, with cash-prize winning tournaments in:
With over 100 people booked already, our summer LAN is shaping up to be pretty awesome! Make sure you grab your tickets now!