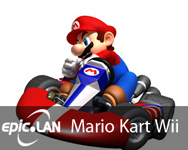 Today saw our Mario Kart Wii Fun Tournament take place! It was the usual barrel of laughs and shenanigans, Kamikaze was there to defend her title as champion of Mario Karts so the comptetion was tough! They battled out through various circuits to narrow down to the top three drivers.
Kamikaze proved why she was champion before by getting herself firmly into the top 3 placings along with Drac and Molly.
Our Winner though, defending her position as Champion of Wii Mario Karts was Kamikaze, so well done to you and we'll see you at the prize giving on Sunday!