After a successful introduction at our last event, the Super Smash Bros (Wii U) fun tournament returns to epic.SEVENTEEN.
We'll be running the tournament on the big screen in the Gallery from the Saturday of the event, and it's open to anyone to take part. Even if you've been binned from the eSports group stages, you'll be free to have a go too so you can reclaim a small piece of your pride!
Only 32 places available, so go and sign yourself up now!
Date: Wednesday 18th November - Start at 19:00 GMT - Evening tournament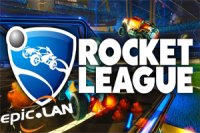 What?: 3 vs 3 Rocket League Single Elimination Tournament (Best Of 5 per series, with Best of 7 Finals)
Max Teams: 32
The Evening will be casted by JoeShow, joined by a serious Rocket Leaguest, Rab. Plus other guests throughout the night. Live over on our Twitch channel, Twitch.TV/epiclan.
We were so impressed by how well Rocket League went at epic.SIXTEEN it was obvious that we all need more of this in our lives! So the team here is really excited to offer a bit of fun Rocket League action. We hope whether you are a casual gamer or an eSport fanatic everyone can make some time to drive rocket cars around with us on the 18th November!
Excited to announce a new epic.LAN supporter, this time it's be quiet! who will be sending over some great prizes for participants in our TF2 fun tournament.
No need to sign up in advance, just look out on the event intranet and listen out for announcements on the Friday of epic.SIXTEEN to join in. The top 3 players by score will be taking home a selection of prizes.
In the mean time, if you're looking for a new case, cooler or PSU make sure you go ahead and check out www.bequiet.com or www.facebook.com/bequietenglish
It may be a surprise to many of you, but there's a thriving Super Smash Bros community over here in the UK. The fighting game, featuring many of your favourite Nintendo characters is also played at quite a competitive level in eSports tournaments around the world.
We've decided to introduce Smash (Wii U) into our epic.SIXTEEN fun tournament series, like Rocket League, to assess the demand for a slightly more competitive tournament in the future if it is popular at the events. We'll also be running the tournament after the group stages for our eSports tournaments have concluded to give people more things to do outside of their matches.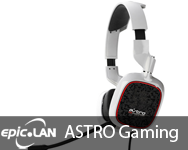 Great news for some of our fun tournament winners, you'll get to take away some neat ASTRO gear if you're good enough!
We'll have the following prizes for the Minecraft, Chivalry and BF1942 fun tournaments:
Find out more about our casual gaming timetable and make sure you join us at epic.FIFTEEN next week to be in with a chance of winning.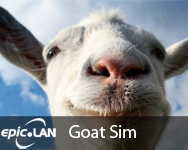 So today at epic.THIRTEEN we saw a Goat Sim tournament... see we really weren't 'kidding' around....
The competitors went up against each other in groups of 4 and to go through they had to score as many points as possible in 5 minutes. The competitor with the most points went through to quarter finals and so on to the final which changed slightly in that instead of playing on the standard map they played a game of Goat Hockey where they had to score as many goals as possible in 5 minutes.
The spectators seemed to really enjoy it and we think it was a mad but fantastic idea.
Congratulations to Matty2050 who took the title of Goat Sim Tournament winner. You have some fab goodies from ASTRO Gaming!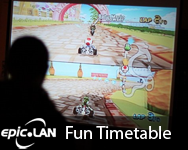 The epic.THIRTEEN big game and fun tournament timetable is now up for you to have a butchers at! Make sure you get all the games you can and get them installed and up to date before you come to LAN. Not long to go now only 3 weeks!! yep really just 3 weeks! If you haven't got your ticket yet what are you playing at, there are social and tournament seats available so grab yours now to join in with all the fun and games.
See you @ LAN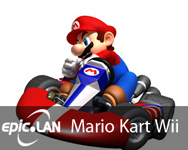 Today saw our Mario Kart Wii Fun Tournament take place! It was the usual barrel of laughs and shenanigans, Kamikaze was there to defend her title as champion of Mario Karts so the comptetion was tough! They battled out through various circuits to narrow down to the top three drivers.
Kamikaze proved why she was champion before by getting herself firmly into the top 3 placings along with Drac and Molly.
Our Winner though, defending her position as Champion of Wii Mario Karts was Kamikaze, so well done to you and we'll see you at the prize giving on Sunday!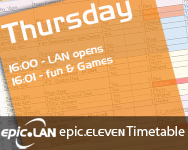 We've now finalised the epic.ELEVEN casual timetable to bring you regular big games through the event with a load of fun tournaments too! You can expect to find your favourites from Unreal Tournament 2004, to Trackmania to Dogfighter. For those eagle-eyed amongst you, yes, the epic.Quiz has been confirmed for Friday evening, ensuring we get chance to Boat Race!
The following fun tournaments are also confirmed:
Minecraft create (build competition running the duration of epic.ELEVEN)
L4D2 Survival (highest Survival score at the end of epic.ELEVEN)
Half Life 2: Deathmatch Ladder
F1 2012
Wii Mario Kart
Rules for the tournaments as always will be shared at the start of the event.
The epic.ELEVEN timetable page has been updated and will continue to be so as the rest of the schedule is locked in.
The last few seats for epic.ELEVEN are selling fast; if you've not yet confirmed yours, do so now to avoid dissapointment for what will be another epic event!
So in the social hall we had three Fun Tournaments and they were packed with players all battling it out to win prizes from our sponsors.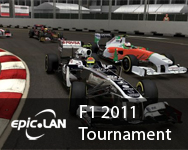 The F1 2011 Tournament was won by Booti who won an Avermedia Live Gamer HD and hot on his heels was Hodgster who took home a Tt eSports Mouse.

The UT2K4 Tournament was won by someone other than Vardy this time round! So in first place we had GotenXao who won a Tt eSports PC case and in second place was Dae who won an intel external HD.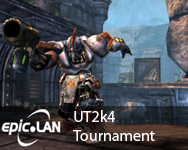 The Beach Volleyball proved to be a popular stand in for the boxing and if you've seen the images on our galleries i think you'll agree it looked like fun! The winner was Antrobus who took home an Avermedia Live Gamer HD and smashing his way to a close second was Adunas who took home a Steel Series mouse.
Page 1 of 2