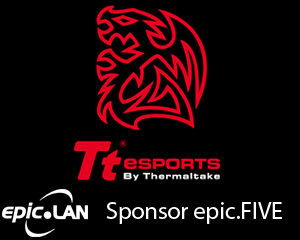 We are very pleased to announce that Thermaltake's gaming division, Tt eSPORTS will be sponsoring the epic.FIVE LAN Party this February!
Thanks to their support, we will have the following goodies available as prizes for various activities during the LAN:
42 spaces are remaining for epic.FIVE, with 158 currently confirmed and spaces going extremely quickly. We predict that the event is well on track to sell out and be the biggest and best epic.LAN so far!
About Tt eSPORTS
Thermaltake has been a well-known brand in the gaming & DIY market for PC Chassis, Coolers and Power Supplies PSU for many years. The brand personality of unique, aggressive, vivid and stylish makes Thermaltake an expert in creating exciting things and fascinating environment for gamers and enthusiasts. Tt eSPORTS inherited the brand personality with unique and creative design by observing users' behaviours and requirements. The fan cooling design on Tt eSPORTS Challenger keyboard demonstrate the brand spirit. It is the worldwide first keyboard with fan cooling function that could dry your hand sweats and blow tension away during cut-throat competition.