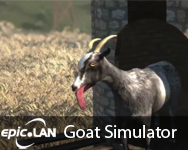 Awesome news for epic.THIRTEEN participants as we're extremely rammed to confirm that the world's first Goat Simulator tournament will be taking place at the event.
Furthermore, we're also confirming the renewal of our ESL UK partnership as they promise to bring IEM-standard coverage to this amazing new title set to take the eSports world by storm. We caught up with Peter Mather, ESL UK Community Manager, who had this to say:
After the success of the Dota2 challenge at epic.TWELVE. At first we thought the epic.LAN guys were kidding us, but thinking about it, we can't wait to be back for the next instalment and what better game to work together with the team at epic.LAN on to deliver this world's first tournament. If you thought Katowice was spectacular, wait until you see what we've got in store for this event!
Signups for the epic.THIRTEEN Goat Simulator tournament are now live, with tickets on sale for just £50 until 8pm 1st April saving yew a whole £10 on the normal price. Make sure you bleat about it to all your friends so we can make epic.THIRTEEN the best event yet!
For those of you unfamiliar with Goat Simulator, check out our video where Winbar takes a look at the game for the first time: