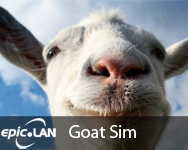 So today at epic.THIRTEEN we saw a Goat Sim tournament... see we really weren't 'kidding' around....
The competitors went up against each other in groups of 4 and to go through they had to score as many points as possible in 5 minutes. The competitor with the most points went through to quarter finals and so on to the final which changed slightly in that instead of playing on the standard map they played a game of Goat Hockey where they had to score as many goals as possible in 5 minutes.
The spectators seemed to really enjoy it and we think it was a mad but fantastic idea.
Congratulations to Matty2050 who took the title of Goat Sim Tournament winner. You have some fab goodies from ASTRO Gaming!


We're pleased to announce that ASTRO Gaming has offered their support to a range of community activities taking place at epic.THIRTEEN.
ASTRO will be offering their support to the pub quiz with some goodies for participants as well as arranging prizes for some of our fun tournaments, including:
epic.THIRTEEN sees a huge range of eSports tournaments including League of Legends, CS:GO, Dota2 and Starcraft 2 as well as masses of community activities such as the epic.HUNT, pub quiz, big games, fun tournaments, live DJ sets, card and board games and more! If you want to enjoy an awesome weekend of gaming, then make sure you grab your ticket now at www.epiclan.co.uk/epic13.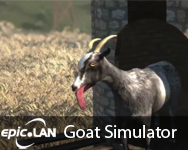 Awesome news for epic.THIRTEEN participants as we're extremely rammed to confirm that the world's first Goat Simulator tournament will be taking place at the event.
Furthermore, we're also confirming the renewal of our ESL UK partnership as they promise to bring IEM-standard coverage to this amazing new title set to take the eSports world by storm. We caught up with Peter Mather, ESL UK Community Manager, who had this to say:
After the success of the Dota2 challenge at epic.TWELVE. At first we thought the epic.LAN guys were kidding us, but thinking about it, we can't wait to be back for the next instalment and what better game to work together with the team at epic.LAN on to deliver this world's first tournament. If you thought Katowice was spectacular, wait until you see what we've got in store for this event!
Signups for the epic.THIRTEEN Goat Simulator tournament are now live, with tickets on sale for just £50 until 8pm 1st April saving yew a whole £10 on the normal price. Make sure you bleat about it to all your friends so we can make epic.THIRTEEN the best event yet!