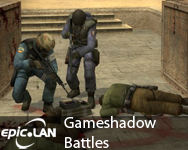 GameShadow, Fasthosts & epic.LAN have joined forces to launch GameShadow Battles, a new tournament based online gaming experience, and is going to premier the partnership with a fantastic opportunity for gamers to win a combined prize fund of £10,000.
Launching formally on 14 May, GameShadow Battles invites gamers to take part in a series of challenges within two featured games: Call of Duty 4: Modern Warfare Challenge and Counter Strike: Source Challenge.
Up to 128 teams will be able to take part in the online tournament, with each team consisting of five players.
The prize fund, which is being provided by Fasthosts, will be divided equally between the two challenges, with each £5,000 prize to be shared between the top three finishing teams. The winning teams will collect £2,750, the runners up £1,500, and bronze medalists £750.
Additional prizes will also be on offer for teams who top the weekly scoreboards. The tournament brings together the best of the best with GameShadows' significant following, Fasthosts world class hosting services and epic.LAN providing the gaming software and administering the tournament.
Mark Townsend, CTO of GameShadow commented.
Having made a number of substantial upgrades to our site, we are delighted to extend our range of services further to the gamer community through what we believe will be a thrilling tournament with some of the best gamers around the UK teaming up to win not only a cash prize but also the kudos and recognition that comes from such an achievement. We are excited to be working with Fasthosts and epic.LAN, and believe this partnership will be the most significant development in the UK gaming market this year. We can't wait for the action to start!
Steve Holford, Marketing Director of Fasthosts, stated,
We are delighted to support this inaugural GameShadow Battles tournament. It's a great opportunity for us to showcase to the gaming community the quality, performance and value of our range of hosted services and servers. Over a million customers rely on us every day to provide their websites, email and other online services, and as such this is a natural development and one we are delighted to partner with GameShadow and epic.LAN on.
Jon Winkle, Managing Director at epic.LAN, commented that
As one of the UK's leading LAN party companies, we're really excited to be involved in an online tournament on this scale. We hope that the gaming community will turn out in their droves – with the prizes on offer, it should be an unmissable opportunity for any gamer.
There is no charge for taking part in this launch tournament and anyone interested in participating can pre-register their interest by following the link: www.gameshadowbattles.com.