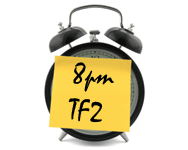 With epic.ELEVEN fast-approaching (a mere 9 weeks away), it's time to start putting together our timetable of big games and fun tournaments.
As usual, we will be compiling a programme of activities away from the prize-winning tournaments for people to take part in, you don't have to play in them, but it gives people a chance to enjoy some big games with as many of the other participants as possible, so go ahead and give your suggestions on our forums.
For our fun tournaments, we're probably going to run something on Minecraft again, as well as an FPS, Console and Racing game. And don't forget the epic.HUNT also returns this time for those looking for a more cryptic challenge.
Note that we don't schedule in smaller games, there's plenty of time for you to organise your own, so we're looking at about 16 players upwards for the big games, we also don't schedule in the non-computer gaming stuff like board games, Werewolves etc. but there are tools like the TweetWall, forums, internal IRC all available to help you organise your own activities too.