It's the final countdown to LAN, with just under two weeks to go and that means it's time to announce our event timetable, packed with big games and fun tournaments to keep you all busy for the weekend.
Our fun tournaments for epic.EIGHTEEN include:
Rocket League
Super Smash Bros Wii U
Don't Starve Together (Ongoing)
Open TTD (Ongoing)
Nidhogg
Ark: Survival of the Fittest
Check out the full timetable now and start installing ready for epic.EIGHTEEN!
We've been steadily announcing activities over the past few weeks such as our 1v1 Super Smash Bros (Wii U) tournament and of course Rocket League. Now it's time to announce the whole epic.SIXTEEN timetable, packed with activities for you to enjoy throughout the weekend including old favourites such as TF2, UT2k4, HL2DM as well as some new additions like Jackbox Party Games on the big screen in the Gallery area.
As always, these are just selections of games we've picked out for the event, of course you're free to play whatever you want, whenever you want too! If you want people to join in, you can add items to our intranet timetable at the event or just ask a member of the team to put an announcement out for you.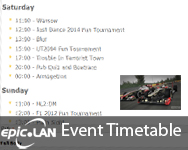 It's what you've all been waiting for....... yes it's the epic.FOURTEEN social timetable! Chock full of Big Games, Fun Tournaments and other social activities such as a Karaoke Evening and Live DJ Night!
Check out the epic.FOURTEEN timetable now to make sure you've got all the games you need to join in with all the fun!
Still need to buy your ticket??? what are you waiting for there aren't many spaces left so hurry along to book your ticket now!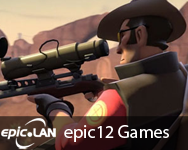 With epic.TWELVE fast approaching, it's time for us to look at the big games and fun tournaments to keep you all busy through the event.
As always, we're keen to hear your suggestions, but remember for big games, we're looking at anything really over 16 players (you can sort smaller RTS/Co-Op type games amongst yourselves), and preferably reasonably cheap for people to pick up for the event.
Let us know your thoughts over on the forums!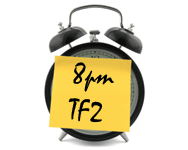 With epic.ELEVEN fast-approaching (a mere 9 weeks away), it's time to start putting together our timetable of big games and fun tournaments.
As usual, we will be compiling a programme of activities away from the prize-winning tournaments for people to take part in, you don't have to play in them, but it gives people a chance to enjoy some big games with as many of the other participants as possible, so go ahead and give your suggestions on our forums.
For our fun tournaments, we're probably going to run something on Minecraft again, as well as an FPS, Console and Racing game. And don't forget the epic.HUNT also returns this time for those looking for a more cryptic challenge.
Note that we don't schedule in smaller games, there's plenty of time for you to organise your own, so we're looking at about 16 players upwards for the big games, we also don't schedule in the non-computer gaming stuff like board games, Werewolves etc. but there are tools like the TweetWall, forums, internal IRC all available to help you organise your own activities too.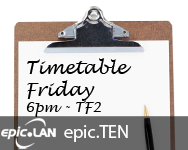 Here's what you've all been waiting for, it's the epic.TEN timetable!
As well as things like opening times (bar and catering following shortly), the timetable also shows a range of big games and fun tournaments taking place throughout the event. As always, we've taken on board your feedback and added in some different games as well as keeping in the old favourites.
You'll notice that smaller games like RTS titles and the non-computer stuff like boardgames, werewolves etc. don't feature on the timetable. That's because we only schedule in the things that we're responsible for running and then that leaves you with plenty of time to do your own thing during the event. Of course you don't have to play everything in the timetable, it's just a guide to when we'll be putting up some big games for as many people as possible to enjoy.
So here is the epic.TEN timetable!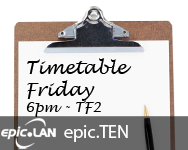 It's that time where we start looking at all the games to put in our big games timetable and to select 2-3 to run as fun tournaments throughout the weekend. We aim to put on 4-5 big games per day and announce that timetable in advance so people can make sure they have the games installed and updated ready to play.
So we're looking for your ideas for games that support at least 16+ players, preferably with LAN modes rather than online play where everyone can just pile in the server for a few hours of fun fragging.
With smaller RTS type games, these still get played, but we don't timetable them in as they are for smaller numbers of players and there's plenty of time in between the other big games (that's why we only put on 4-5 games per day to give you plenty of time to do your own thing too). Similarly, the non-PC games such as cards, werewolves, board games, we don't put those on the timetable as they're all things organised by the participants rather than us.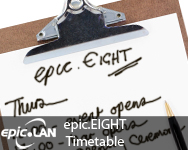 After reading through everybody's suggestions and keeping some of the usual old-favourites in, it's time to reveal the epic.EIGHT timetable!
Sadly we can't fit everybody's suggestions in, and we leave things like smaller RTS games and social games like Werewolves, 'Cards' etc. down to you all to play whenever you want a break from the normal timetable, but of course we will do shoutouts if you want to get people into those games, and you can also use IRC/Forums/Tweetwall to help.
Make sure you grab the games (if you want to play them!) before the event, and get them all updated in advance.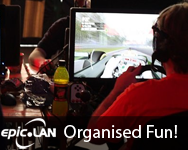 Yes, it's that time in the run up to one of our LAN events where we start to look at our timetable of big games and fun tournaments!
epic.EIGHT is happening next month and it's looking like one of our biggest events yet, with spaces almost gone in Hall 1 already!
As usual we'll have plenty of activities, and here's where you tell us what sort of games you'd like to see. As before we'll have a few fun tournaments over a couple of game genres and a packed timetable of big games throughout the day and night, as well as the usual activities like our Pub Quiz.
So head on over to the forums and let us know what you'd like to see, we'll then get the timetable up so you can make sure you have all of the games included.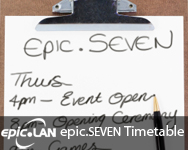 Our epic.SEVEN schedule is now complete and available to view on our timetable page. We have loads going on to keep you busy for the event, from big games to fun tournaments, live DJ sets, social activities and more...
Still haven't secured your seat for epic.SEVEN? What are you waiting for? Head over to the signup page now!
See you there!
Page 1 of 2