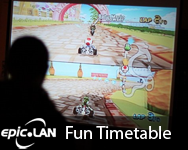 With epic.SIX closing in fast (under two months now!) it's time to turn our attention to our casual gaming timetable for the weekend.
epic.LAN regulars will know, we go to a lot of effort to run loads of activities during the weekend on PCs, consoles and even away from the computers like our pub quiz.
So, as usual, we want to hear from you about big games you'd like to see in our timetable as well as any fun tournaments you would like us to organise.
However, smaller games, particularly RTS style and social games such as Werewolves don't appear in our timetable, as they tend to just happen through the weekend and we don't want to schedule every minute of your LAN! So we build in plenty of time for you to do your own thing too!