Next up in our epic.TEN sponsorship lineup, it's global multimedia manufacturers with a huge focus on the gaming capture market, AVerMedia.
Having first supported us at our last event, the AVerMedia team will be sending along a couple of their awesome Live Gamer HD capture cards for some of you to win during the event.
So a big thanks to AVerMedia, and make sure you go and check out the rest of their great product range.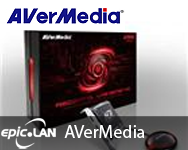 As the epic.NINE fun tournaments are being announced, we've had some great news from AVerMedia who will be sending along 2 of their Live Gamer HD capture cards for two of our fun tournament winners, letting you record awesome quality footage of your frags.
About the Live Gamer HD:
With the Live Gamer HD, PC gamers now can preserve their splendid in-game footages directly on the gaming machine without draining the system resources. Even better, it comes with a dedicated record button, the Hot Button, to deliver fast respond speed and prevent you from missing any exciting moment.
Make sure you're at epic.NINE to be in with a chance of winning!