Fresh off the back of the Element Gaming sponsorship announcement, next up we're excited to announce our epic.SEVENTEEN CS:GO casting lineup.
All of our eSports titles will be covered during the weekend as well as general activities and banter on our Central Stream. The team that will be bringing you all of your CS:GO coverage needs is a fantastic mixup of fresh talent side-by-side with some of the veterans of UK CS:GO.
You will be able to view the CS:GO stream over at twitch.tv/epiclan1 throughout the weekend with matches kicking off Friday morning.
Don't forget you can view all of our various Twitch streams during epic.SEVENTEEN by checking out our team page!
One thing that epic.LAN has always been proud of is its caster lineups! To kick start epic.FOURTEEN we are pleased to introduce a fantastic team of casters some of whom you will recognise and some new comers to the scene!
Tom "Gumpster" Gumbleton epic.LAN eSports Manager explained;
"I feel that we have built a rather good casting line up with naturally talented experienced casters a long with some rather unique up & coming casters in their respective scenes.
With the addition of having the usual two casters for some games we have three casters to help aide our casting team throughout the event with breaks and give the audience a natural blend of variety and stability. Hopefully these guys can entertain the audience as much as they have entertained me over the last few weeks"
Read more to see the full lineup and sneak peek video!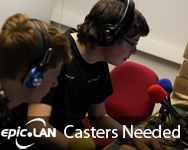 With just a few weeks left before the event now, we're building up our plans for tournaments and are seeking a few casters for the event.
This is not a paid position, so would suit people who are starting out looking to build up their experience. Obviously you would not be expected to pay for your LAN ticket, like our other volunteers, and you would need to bring your own hardware with you.
We would ask that the streaming takes place using our twitch.tv channels and from the event itself, and we'll be building our various streams into our website during the event. The games we're looking for coverage on are:
Counter-Strike: Global Offensive
League of Legends
Call of Duty 4
If you are interested, please contact us as soon as possible providing details of your previous experience with links to current Twitch/YouTube channels.