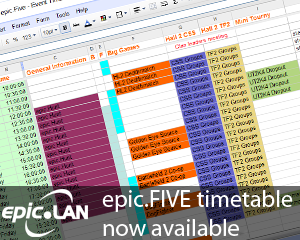 We've been reviewing games for the past few events as well as looking at your comments on the forums and we've now made our epic.FIVE timetable available for you.
We have increased the number of things going on, added some recent hits but kept in the old favourites that people still enjoy.
You'll find the Steam or download links for most of the games in the timetable to allow you to download them before the event if you wish to take part.
We would ask that you try to get any downloads and patches sorted before the event in order to conserve bandwidth.